Elvenar Team
Dear Humans and Elves,
We plan to update our International worlds to version 1.92 on Wednesday, 13 November. Please find the list of changes below!
Profanity filters that previously only applied to user names & chat now also apply to private messages, censoring a list of predefined blocked words. Should you find that specific words are not covered while you believe they should be, please get in touch with our Support Team to inform us.
We continue our ongoing efforts to improve the user interface with changes to user interactions. Some of these interface changes will only become available to a small percentage of players at first, while we thoroughly test their technical performance. Their activation is detached from the update.
As with every update, we've resolved a number of bugs, among which:
Inventory - When disenchanting the last item of a stack of items, the disenchant buttons on all other items would disappear until the window was reloaded. This is no longer the case.
Crafting - The amount of Spell Fragments available is no longer cut off upon reaching more than 100,000 Spell Fragments. Instead it now truncates to 100K instead.
Note: the app version of the update is released separately from the browser version.
Private Messages​
Private Messages will arrive in the mobile app!​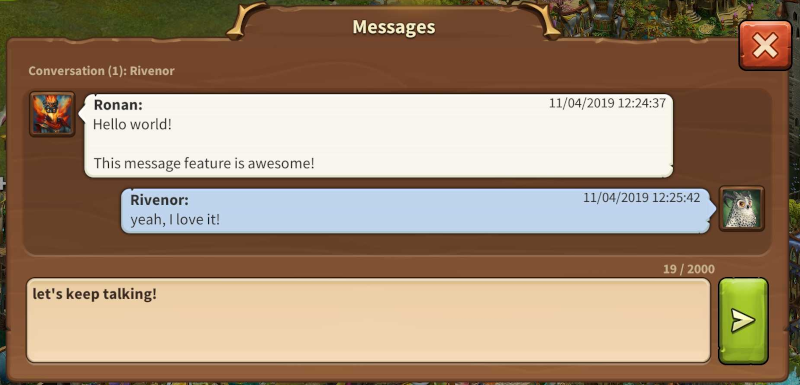 Compose messages to other players, player groups or your entire Fellowship
Receive messages from other players and reply to them
Message content can be copied by simply pressing on the respective message and selecting "copy message".
Reporting player messages is possible, but please beware that this will automatically put the sender of the reported message on your personal ignore list.
Disclaimer: The Mobile Messages will only become available when version 1.92 is downloadable in the stores for all players.
​
Bug fixes​
World Map - The province that had a Scouting session in progress would sometimes not be shown correctly, leaving an empty tile until the game was reloaded. Scouts have been equipped with tracking sensors so that they can no longer go in hiding like that.
Barracks - Wrong unit amounts were sometimes displayed in the Barracks production queue when the Ancient Wonder Simia Sapiens was available in the city. The right amount of units were produced, however.
Build Menu - Fixed some missing assets for Footpaths while playing the tutorial.
World Map - Players who have reached Chapter 15 - the Elvenar - now have the correct city shown on the World Map, instead of appearing as a new player.
Please let us know your thoughts on the update by leaving a comment in the
discussion thread
.
Kind regards,
Your Elvenar Team