Elvenar Team
Dear Humans and Elves,
We are aiming to install version 1.90 of Elvenar on our International worlds on
Tuesday, 15 October
. For all details of what the update contains, please have a look at the list of changes below.
A new Province Overview has been added to the user interface of the World Map, giving access to a tool to facilitate World Map progress.

Scoutable - Overview of all scoutable Provinces, including the most important information about a province (direction as seen from your city, distance, type, and difficulty). From here, you can immediately start a scout, or navigate to the Province on the World Map.

Incomplete - A list of all Provinces that have been scouted, but not yet been completed. You can also navigate to the Province from here, allowing you to directly start completing Encounters.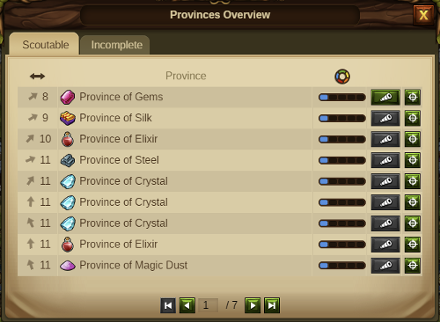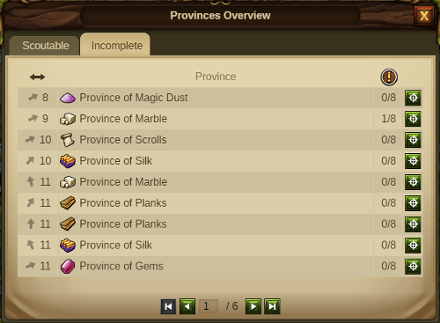 The Diamond costs for buying units and healing wounded units after battle have been reworked to streamline costs. This should result in reduced costs in a large variety of cases, especially when only small amounts of units need healing.
As with every update, we've resolved a number of bugs, among which:
Teleport Building - Mermaid's Paradise and Stonehenge no longer pretend to be eligible to be stored with Teleport Building. Although we understand that they would like to sometimes hang out in a cozy space like the inventory, it is unfortunately not possible to store Evolving Buildings.
Ancient Wonders - Endless Excavation no longer shows the Basic Reward information as it was inaccurate and irrelevant since this value never changes.
Feature in testing - Production - When starting multiple Workshop productions at once, productions in Magic Workshops are now also started immediately.
Buildings - Fire Phoenix - Fixed the handling of collecting the building's productions in case the supply cap is already reached.
Buildings - HTML5 - The construction timer of a building no longer visually freezes when another building is sold.
News - HTML5 - The news preview when hovering over the news button below the user name no longer cuts of the lower parts of each letter of the headline.
Note: the app version of the update is released separately from the browser version.
Battle - Fixed several issues with the battle preparation screens, which were caused by the background of the screen still being interactable.
Shop - Prevented an edge case in which the shop would show up empty instead of presenting a specific combination of offers.
Ancient Wonders - The button to use Ancient Knowledge to add additional Knowledge Points to an Ancient Wonder is now properly greyed out once no more Ancient Knowledge is left in the inventory.
We hope that you'll like the changes we're bringing this version. Please let us know your thoughts by posting in the
discussion thread
.
Kind regards,
Your Elvenar Team