Community Manager
Elvenar Team
Dear Humans and Elves,
We are updating our International worlds to version 1.104,
tomorrow
the 12th of May The list of changes can be found below:
Both the Spire of Eternity and the Crafting in the Magic Academy can now be accessed easily with buttons in the bottom navigation bar of the game. The buttons also give some additional information:

The button to the Spire of Eternity conveys the availability of the Spire, and it shows how long it will take until the next one starts.
The button for Crafting shows if Crafting is idle, if there is currently a recipe being crafted, and when there is a crafted recipe ready to be picked up.
​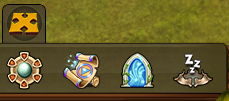 Elven players are able to choose one additional avatar from the start of the game:





After having reached at least Chapter II, two new avatars are unlocked for each of the two races:

As with every update, we've resolved a number of bugs, among which:
May Celebrations - Fixed an issue where the number of available Spring Seeds could be red, even if sufficient Spring Seeds are available to open a Flower.
May Celebrations - Realigned the image for the loading screen to the World Map.
May Celebrations - Realigned the reward in the pop-up when unlocking a Grand Prize.
Ancient Wonders - Updated the image of the Thermal Spring of Youth's Rune Shards so that it is no longer cut off on one side.
Note: the app version of the update is released separately from the browser version.
Timestamps on in-game messages are now formatted based on device language settings, unless these cannot be detected properly.
May Celebrations - Ensured that only available quests are visible and can be interacted with, and not also quests that would normally unlock the next day.
Spire of Eternity - Added an icon for Spirit Essence that was only there in spirit until now.
Ancient Wonders - The Ancient Wonder contributions window should now update more reliably when it is kept open while contributions are made by other players.
If you are curious and want to experience these changes before they are released, please feel free to register an account on our
Beta server
, where they get released several days in advance for technical testing.
We hope you like the changes we're bringing with this update. Please let us know your feedback to the changes by leaving a comment in the
discussion thread!
Kind regards,
Your Elvenar Team