Elvenar Team
Rebalancing of select event buildings
Dear Humans and Elves,
To prepare for a new upcoming feature that will allow you to upgrade event buildings, we will be adjusting the values (rebalancing) a selection of our oldest event buildings with the update to version 1.54. Some of the buildings will be buffed (have their stats increased slightly or significantly), others nerfed (have their stats decreased slightly or significantly).
Our earliest event buildings (from events hosted in 2016 until early 2017) had significantly higher bonuses than their counterparts of later events. We have since avoided giving out these buildings, for this reason. Now that we want to allow upgrading for all event buildings, we need to streamline the values of all event buildings, which means that older buildings need to be rebalanced to make them more in line with more recent event buildings.
We want you to be able to upgrade
all
event buildings, which is why we opted for the rebalancing, even though we are fully aware that adjustments to buildings are always a controversial topic. Not rebalancing
and
allowing the buildings to be upgraded later was unfortunately not an option, as this would severely impact the game's balancing and would be unfair to players who joined the game later and can no longer obtain said buildings.
Some of the affected buildings provide bonuses to both Culture and Population and needed to be nerfed. In those cases, we have attempted to keep the Population number as high as possible within the limits of the game's balancing possibilities. We have done this because Population is scarcer than Culture, and therefore typically deemed more valuable by the community. While we are fully aware that this change can have a big impact, especially on cities relying heavily on event buildings for their Culture or Population, it is a step we had to take to preserve the future of our game's balancing, while still being able to offer you the much-requested ability to upgrade your event buildings.
If you want to know if any of your buildings will be rebalanced, we have provided a list for you (open the spoiler below). Unfortunately we cannot list if a building is buffed or nerfed in detail, because this can vary per version, with each of these buildings having a different version per chapter.
Leaf Codex
Sun Codex
Lava Codex
Crystal Unicorn
Silver Unicorn
Rainbow Unicorn
Summer Flower Cage
Spring Flower Cage
Rainbow Flower Cage
Bronze Guards
Silver Guards
Heroic Banner
Noble Banner
Dark Signpost
Glossy Garden
Father Tree
Observatory
Venar's Rocks I
Venar's Rocks II
Venar's Rocks III
Wonky Walters
Charming Tree
Scream of Halloween
Daunting Pumpkins
Snow Flake Mountain
Castle Snow Flake
Tower of the Winter King
Winter Star
Frozen Lake
Snowball Fight
Lazy Snowman
Igloo Festival
Glacier Garden
Lampion Winter Pond
Winter Pond Habitat
Temple of the Flame
Temple of the frozen Flame
Father Glitter Tree
Father Tree of Candy Canes
Father Frozen Tree
Frozen Unicorn
Candy Cane Unicorn
Winter Deers
Snowy Charming Tree
Frozen Flame Blue
Frozen Flame Orange
Frozen Flame Green
Frozen Flame Purple
Winter Lampions
Winter Shrine
Winter Forest Shrine
Forest Igloo
Frozen Tree Stomp Magic
Gaelagil's Balcony
Burukbrak's Bridge of Love
We are aware that of this list, three buildings were given out in the Walpurgis questline that was available recently, and have been able to confirm that all three of these buildings were buffed (amount dependent on your chapter), meaning they are slightly stronger now than they were before their rebalancing.
What more will we do?
As mentioned above, we are working on a way to upgrade your event buildings: the new
Royal Restoration Spell
, which will allow you to upgrade your event buildings, as well as the Magic Residences and Magic Workshops. This spell will replace the current Blueprints that you can get from the Tournaments. You will be able to get the spell from the Tournaments as well, of course. Any Blueprints you have will be changed into the new spell, which has the same capabilities, and more.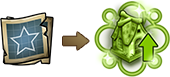 To compensate for any lost population and culture with this update, we will be offering this spell for free to everyone once,
as soon as it's added to the game with a later update
. This will still take a bit of time, and won't come in time for us to give it at the same time as we perform the necessary rebalancing. However, we couldn't wait longer with rebalancing the buildings in preparation for these big changes to come.
We hope that this post could explain why we are making these changes to the game, and why we are doing it now, rather than later. Should you have any questions about the event building rebalancing, please feel free to ask them in the
discussion thread
that we have opened for that.
Kind regards,
Your Elvenar Team