Elvenar Team
Dear Humans and Elves,
Many of you will be familiar with the "problem" of the inventory bursting at the seams with all kinds of Enchantments, Instants and Summonings just sitting there in near-terrifying amounts. We all have these Buildings received from events that haven't been placed yet, or Enchantments gained but not cast. Wouldn't it be good if there was a way to use all those resources in a convenient way?
Today we are announcing a brand-new feature that should help you clear out your inventory, and create items that you
want
to have in your city: be that Relics, (other) Buildings, Knowledge Points, and more! Sounds good to you? Great, then read on, and learn all about Elvenar's newest addition, coming exclusively (for now) to Elvenar International with the next update:
Crafting
!
What is Crafting and what is needed to start Crafting?
In short, Crafting allows you to use items (Enchantments, Instants, Summonings/Buildings) in your inventory to create new items to use in your city instead. Crafting is tied to the Magic Academy: you will need to have a Magic Academy to produce the spell required to craft items: the Combining Catalyst. Since its release, we have received lots of feedback from you, our community, that the Magic Academy wasn't powerful enough for the space it takes in the city. We're happy to give the building more value with this change!
How does it work?
To craft new items, the following steps are necessary:
Step 1: Disenchanting for Spell Fragments
Through the Magic Academy or in the inventory, you will now be able to disenchant essentially any item that you may have stored. You are of course able to choose which item(s) you want to disenchant. Disenchanting will result in gaining Spell Fragments. These fragments are needed to create new items later.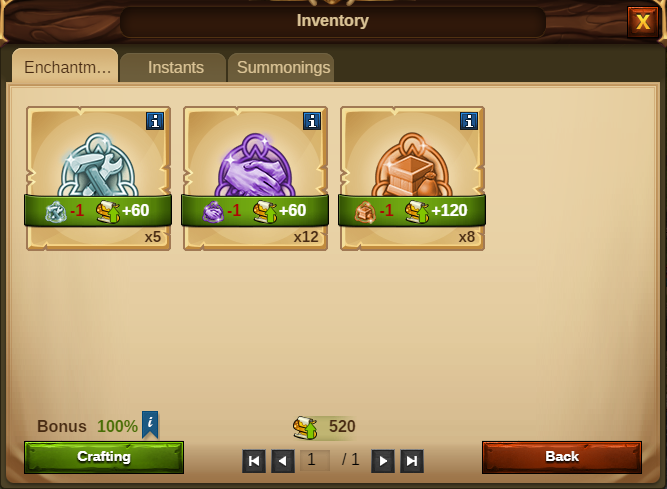 ​
Upgrading your Magic Academy will give you more Spell Fragments when disenchanting items from your inventory. The bonus goes up to double the Spell Fragments when the Magic Academy is at level 5, compared to level 1.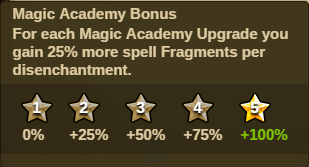 Step 2: The Combining Catalyst Spell
In the Magic Academy, you will now be able to make a new type of Enchantment: the Combining Catalyst. You need this Enchantment, together with the Spell Fragments (see Disenchanting above), to create new items.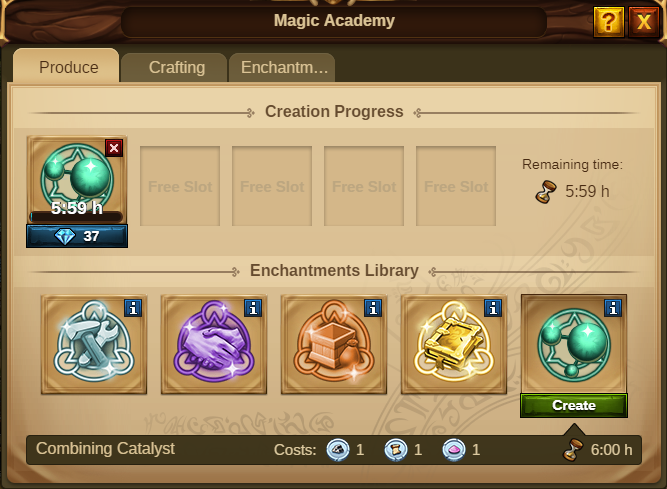 ​
Step 3: Craft using a recipe
Once you have the Spell Fragments and the Combining Catalysts ready, you are able to craft from a set of recipes. There will be five available at any given time, with recipes changing every 8 hours. Crafting allows you to craft one recipe at a time. Should none of the currently available recipes be appealing to you, you will be able to either reset the selection using Diamonds, or you can wait until the reset timer reaches zero.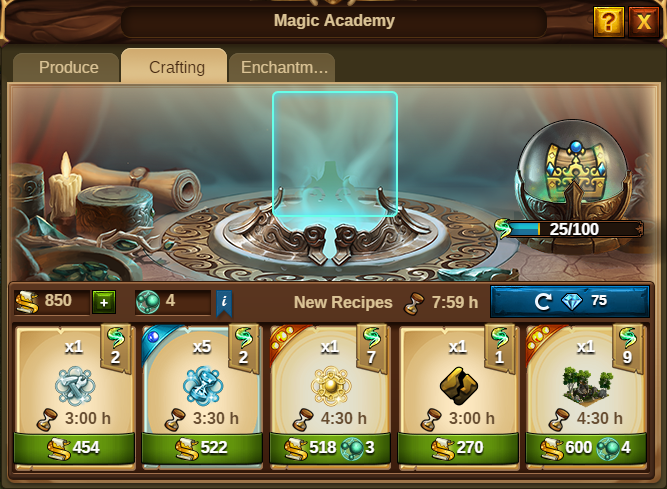 ​
Vision Vapor
Every time you craft any of the recipes, you will gain some Vision Vapor. For every 100 Vision Vapor you collect, you unlock nice, extra rewards from the Mystical Object. These rewards can include powerful Buildings, Instants, and even Diamonds!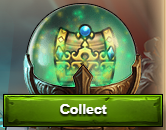 Can I already use Crafting on both browser and in the app?
For the initial release, Crafting will only be available in the browser version. We will soon be able to activate it on the app as well, but we will need to have the new app version for that, which is not yet available. We'll enable it for Mobile as soon as it's there!
We hope that, using Crafting, you'll be able to make use of any items you don't really want to use in your inventory, to create more useful items. Please do let us know what you think about this feature in the
discussion thread
. We are very curious to hear what you think about this new feature!
Kind regards,
Your Elvenar Team