Co-Community Manager
Elvenar Team
Forum Announcement​
---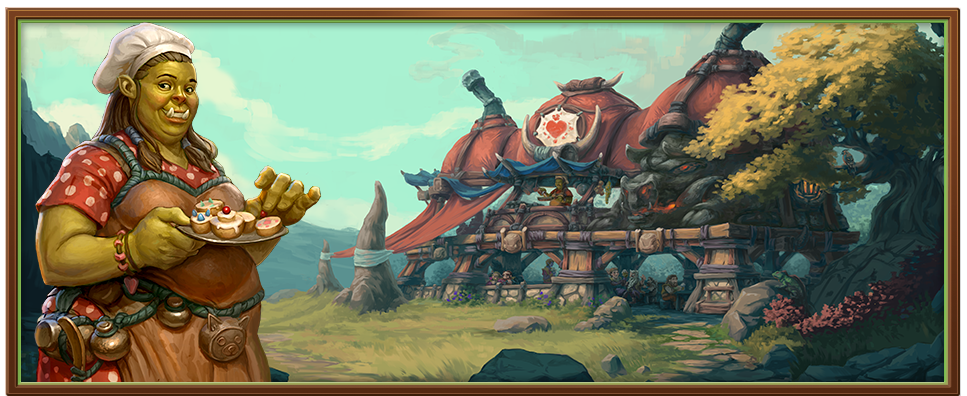 Mama Juul's traveling Kitchen has come to your city! But who is she and why is everyone super excited?
Juul had always been passionate about cooking, but she felt that orcish cuisine was limited in taste and flavor. She longed to travel the continent of Elvenar and learn new recipes that she could bring back to her community.
One day, she prepared her cart, took all her kitchen equipment, and set out on a journey of culinary discovery. As she traveled, Juul met many people from different cultures and races, and she learned about their unique ingredients and cooking techniques.
Juul's kind heart and delicious food quickly made her popular among the people she met. She would cook for anyone who would invite her into their towns, and she always left behind a satisfied and grateful crowd. Her dishes were a delightful blend of traditional orcish ingredients and new spices and flavors that she had discovered on her journey.​
Join the event, taste delightful dishes, and listen to Mama Juul's stories about the places she visited!
Dear Humans and Elves,
Starting from
May 9th until May 31st,
you will be able to earn
Chef Hats
by playing an exciting new collection of quests, visiting your city on a daily basis, reaching certain quest milestones, and searching around the outskirts of your city.
Spend Chef Hats to create
Dishes
and
merge
the dishes to make them more delicious. The Dishes are stored in a stockpile and each type of dish has its own stockpile and can give
different levels
of the same food. Spend Chef Hats to take a dish from the stockpile and start merging! You'll also have a small chance to receive an upgraded dish right away. There are 3 types of dishes,
hot chocolate, lime desserts, and delicious roasts
.

Combine identical dishes by dragging and dropping them to advance to higher levels and each dish has six different levels. By fulfilling customer orders you will receive rewards and
Customer Satisfaction
. Customer Satisfaction increases your score and helps you earn
awesome rewards and Artifacts
. Use Artifacts to upgrade the famous Mama Juul's Traveling Kitchen.
The big highlight of this event is the new exclusive Evolving Building
Juul's Traveling Kitchen.

4x4 - Culture, Population, Random Production
​
This event will also feature the Leagues system, as well as the Royal Prize Pass!
The questline consists of a story section and additional episodic quests, which start as soon as the story is completed. This means that you will be able to finish the first series of quests right away, while later quests have new additions released on a daily basis, allowing you to continue to play 1 additional event quest on each new event day. Fulfilling the event quests will also grant you Milestone Rewards at certain points along the way.
Feel free to check out the video below if you want to hear some strategy!
Check out the
Wiki
to read more about Mama Juul's Fusion Feast.​
We hope you'll enjoy cooking, and we are looking forward to reading your feedback in our
discussion thread!
Kind regards,
Your Elvenar Team


Disclaimer: Please keep in mind that there can always be differences in event layouts, balancing, and prizes between Beta and Live release. App version 1.173 is required for the event to function properly. This app version is released separately from the event. In addition to that, please note that the final day of the event spans more than 24 hours, in order to not have the event end during the night (CET). That means the Daily Exclusive on May 30th is the final Daily Exclusive reward that is also available for some more hours in the morning (CET) of May 31st. No new event quest is added to the quest line on May 31st, the final Quest Milestone can be unlocked on May 30th.