Hi all,
The first adventure just finished in Arendyll, YouTOPIA ended 2nd.
We fighted foot-to-foot, work against diamonds and managed to stay in the top 3 all the event long.
No need to tell you how the winners ended ranked 1st, just visit their cities and you'll understand by yourself, this isn't the point of this message... The point is that we went from surprise to surprise thanks to all our fellows work, each doing his best, the bigs and the little, from the first to the last second. I wouldn't have bet a peanut on us before this...
We got two rewards out of those we got with the event : we had a real and exciting experience we never shared before in this game and even 37th in the global ranking, we made the "Golden Visa" FS sweat and waste tons of diamonds to stay around us... Just imagine buying more than 200 badges in less than 10min
The last 15min were pure madness
Thank you Alcaro for the spreadsheet idea and first version and for all the work done in your medium city,
Thank you Fyrfyrdar for helping us to prepare this event a bit, for doing a lot of organizational work, before and during it and for the loads of breweries, treants, etc
Thank you Mattmoo23, Apollyon, Cambiel, Zlo421, MJC1968, jc0508 for all the badges you did
Thank you all the others who managed to put their brick into the building, I won't annoy you naming them all but they all deserved their Egg and time speeder...
The last picture of our family album for this event :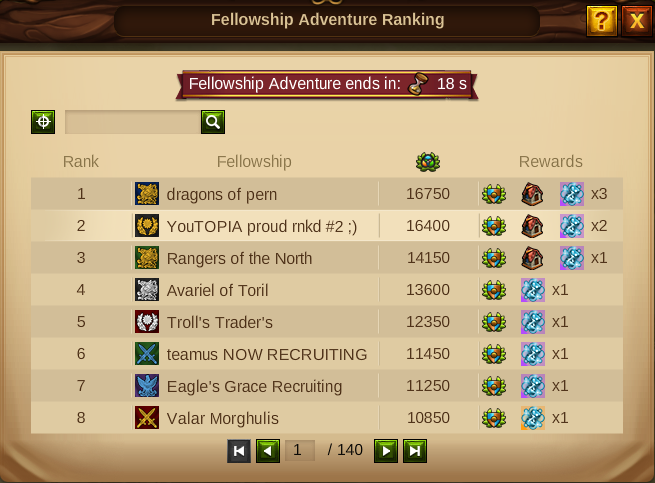 Our new fan-club :
They did a nice job too by-the-way ! Thumb up !
The only weak point for this first adventure : each of those who paticipated to the final sprint had 3 stream errors in less than 9min, we were too fast for the game
edit : a poem from Sammidis that I found this morning in our mails... She lives in Australia and she woke up just in time to sit in the arena beside our archi and watch the last minutes. So, this is a crucial testimony from a direct witness who assisted to the event...
Proud
Twas the night after FS adventures, when all through the house,
Not a fellow is stirring, not even a mouse;
The badges had been placed with precision and care,
In the hopes that the #1 ranking would soon be theirs;
By now most fellows are snug in their beds,
Nightmarish of BS badges but dreaming of polished eggs;
That we came 2nd is an achievement to be sure,
Against dragons with diamonds we couldn't do more;
The final countdown was intense and a treat,
Such a strong fellowship will not admit defeat;
We fought to the end and boy were we loud,
Of our fellowship we couldn't be more proud...
Last edited: