Most of you already know how to access the Support page. For those that don't, that link is here (click). If you follow this link, you will need to log in. If you use the '?' button in your Options menu within the game, you will already be logged in automatically. In the mobile app there is a tab at the bottom of the Options menu that offers 'help', support can be reached through that.
Now that everyone knows how to reach the Support Page, what do you do now?
First, if you are raising a new issue, you should go through the Knowledge Base to see if your issue has a ready answer. If you cannot find an answer there, you will need to open a ticket. Clicking 'Contact us' will open the page below the next paragraph.
If you are making contact on a continuing issue that you have already raised with us, please click on 'Open tickets' and select the ticket that you raised previously and you will be able to enter a response.
Each field in this page is important in its own way.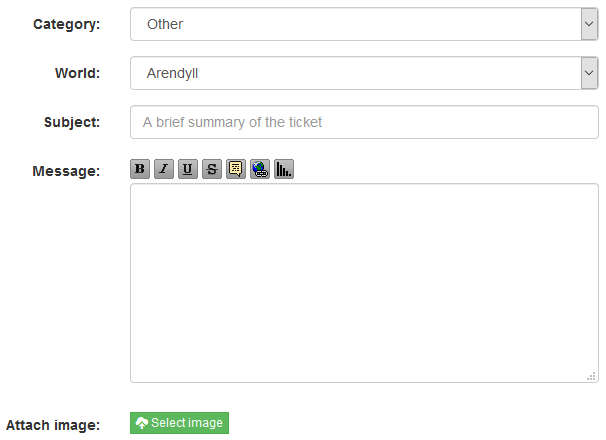 Category helps you describe what type of issue you are experiencing.

Ban Appeal: Only applies to people who have been banned from the game, and will usually be forwarded to the person who imposed the ban. This can delay a response.
Breach of Rules: Only applies when you want to report another player for breaking the game rules. It gives you the opportunity to identify the player by username so we can look into it. For legal reasons, you will only get the response that we are looking into it.
Bug Reporting: By far the most commonly selected option, and the most commonly misused. If you are going to use Bug Reporting, be prepared to offer a fair number of details about what you are seeing when you try what you are trying. Screenshots can be most helpful in this area.
Forum Issue: If you are having trouble using the Forum, choose this option. This option can also be used should you wish to appeal any Forum warning or ban.
General Questions: Where most tickets should probably be put first. 'Why isn't this working', 'What is this supposed to do', or anything else that involves queries about game play. If it turns out to be a bug, we will change the type to help track the problem.
Mobile: If your issue is with the Mobile app, choose this, and you will get an answer from a team member familiar with the app.
Payment: Anything that involves the purchase of Diamonds, or other things which involve real money purchases, as well as any issues related to newsletters or offers you receive via email. These tickets are passed directly to a special team, and you will get an answer as quickly as possible. Choose this even if you are on the mobile app.
Technical Issues: Probably our second most popular type of ticket. Game won't start, freezes up, or turns purple on you, that belongs here. Please be aware that restarting the game once, and/or clearing the cache will often clear up most of these. So if you have already cleared the cache and restarted the game, let us know.
Other: Just what it means. It doesn't quite fit into any of the above categories, but it is still important to you, so it is also important to us.

World: This will be preselected if you logged in through the game. If the issue is in a different world or if you logged in from outside the game, please select an appropriate World here. If the same issue is happening on multiple worlds, let us know that in the body of the message later.
Subject: It says brief, and it means brief. No need for complete sentences here. Please keep it short and to the point.
Message: This is the nitty-gritty, the meat in the sandwich. What you put here may be instrumental in helping us help you, or, alternatively, in delaying our response. See below for the details to put here.
Attach Image: This is how you can attach a screen shot to your ticket. Take the screenshot, save it, then click the 'Select image' button. Best to save your image as jpg as other formats can get too large.
OK, we have selected all the right options to get our ticket to the right place, we have an informative subject line, and we have any screenshots we think may be necessary (you can add up to 5 after having created your ticket later). Now we have to write the message that will get us the best help in the shortest amount of time.
Say hi. Just because we also like reading polite messages.
If the issue is really bothersome, it is perfectly all right to tell us how you are feeling about it. Try to keep the venting in 'I' language (I am upset, angry, annoyed, frustrated by this issue), rather than 'you' language (you failed, did this on purpose, imposed a disaster on me). Definitely avoid personal insults, and remember that you are not talking to the Development Team, but to the Support Team, who are your fellow players who really do want to help you resolve the issue.
Outline the issue. Try to include what you were trying to do, what you expected to happen, and what did actually happen. If an error message popped up, please tell us what it said. If it is happening in multiple worlds, that goes here as well.
Add any efforts you have made to duplicate or resolve the issue. This is where you would add that you have cleared your cache, refreshed your game, updated your browser and/or Flash or whatever else you felt would be helpful. Anything you leave out may be suggested to you as a possible resolution, so be as complete as possible.
Close. It would be nice to have more people thanking us in advance for our help, or hoping for a speedy resolution. Again, politeness will help.
Add your screenshots if you have not already, and click Create. Your ticket will be answered by one of our Team as soon as possible. On average, you'll have a first response within a few hours, depending slightly on the type of ticket you sent.
For some types, some sections are extremely important, and for some ticket types (especially Payment) we will also request more information within the form already. Please fill this in, as it helps us find a speedy solution for your problem. Of course for all tickets, the last -creating the ticket- is of utmost importance. If you don't send it, we can't answer it. Likewise, #3 is important for all, if we don't know why you are sending your ticket, you are not likely to receive a helpful answer. Try to separate the different parts with a blank line, and please use punctuation.
In general, we'd like to say 'help us help you' - the more information you provide, the easier it is for us to help you quickly. And, on top of that, here are some specific guidelines for the different types of tickets:
Ban Appeal: Politeness is most important here. If you duplicate the in game actions that got you banned, you will only make the situation worse. If the ban has been placed for an inappropriate name, try to choose alternative names that will not be objected to as well.
Breach of Rules: While we value and encourage your vigilance in reporting those who may be breaking the rules, please do not expect any answer more than 'We are looking into it.' For legal reasons we cannot share the progress or outcome of an investigation involving another player.
Bug Reporting: If it is a known bug, you will probably receive a set response. The steps required to duplicate the bug will be most helpful to the Development Team in getting the bug squashed in an upcoming release. If we have any workarounds, you will be advised of them. Remember, if it is a genuine bug we may not to be able to fix it immediately, as the Development Team may need to be involved.
Forum Issue: If you are trying to register for the Forum you have to have validated your email first. If you are having trouble validating your email, put it under 'General Questions'. If an error message is shown, please include that in your ticket.
General Questions: Just ask your question. The simpler the phrasing of the question, the simpler the answer will be (usually). If the answer to this question raises other questions, please reply on the same ticket after our response. If you ask a complex question, you may get a (very) complex answer. Please reread the answer several times to be sure you understand it before you respond.
Payment: Be as complete as possible in filling in the fields on this form.
Mobile: this section is a bit of a catch-all for the other types as they apply to the mobile app. If you would choose a sub-type that matches one of the others, please include the appropriate information. If it is a Payment problem, please choose the Payment type.
Technical Issue: Often these issues are caused by settings on your own computer or by other Internet use in your household. A complete description of what is happening and the steps you have taken to resolve it yourself is essential for a rapid resolution.
Other: The more complete you are in your description of the situation, the more likely we are to be able to provide a satisfying answer, or to let you know why there is no satisfying answer.